Discover how MFG Technologies can help you
JobBOSS by Exact is an enterprise resource planning (ERP) built for small and midsize manufacturers in North America. It allows key office and production staff to manage job information day-to-day to aid customer service and on-time deliveries. Key features include quoting, order processing, advanced scheduling, inventory, payroll, accounting, quality (ISO and ASI), data collection and mobility.
All data is located in a single database, giving networked users simultaneous access to the collective information. This allows decision makers to be informed and aware of what is happening on the shop floor and in the office.
This solution places a strong emphasis on costing, productivity and scheduling. It is suitable for custom, make-to-order, engineer-to-order and mixed mode shops and handles everyday situations based on the manufacturing flow in these types of facilities.
JobBOSS can be purchased as a standard license or as a subscription and it can be deployed as a cloud-based or on-premise solution.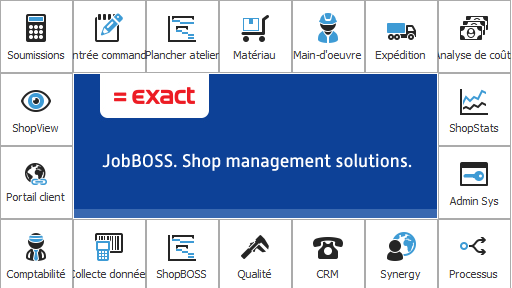 With JobBOSS you can :
Improve the win rate of your quote-to-order;

Be sure that everything works the same;

Schedule and control your operations;

Use all your work centers at maximum capacity;

Improve productivity and cut the overtime;

Accurately control materials and shipping;

Adapt yourself to changes even if job is in production;

Follow job status;

Analyze costing of every single jobs and see their profitability;

Improve and maintain a good customer service..

JobBOSS
3600 American Boulevard West, Suite 250
Bloomington, MN 55431, USA 
USA Toll Free 800-777-4334
Web: jobboss.com
JobBOSS is a member of the Exact Software family. JobBOSS has been developing software and services specifically for machineshop and work on order company because those companies were looking for an easy solution that would facilitate their quoting and job managements from beginning until the end. This company started in 1984 as a private company.
With over 6,000 installation in North America and more than 40,000 users, JobBOSS Is a software based on job which is affordable and easy to implement. JobBOSS has a flexibility to adjust to different scenarios and modifications that than occurs while fabricating. This flexibility helps you keep or even better, improve your shipping time while increasing your revenues and profits.
JobBOSS is the only machineshop management software certified ISO 9001:9002. It is now available in French
Exact Software is the leader in developing manufacturing software, accounting software, CRM for small to medium size enterprise. All Exact Software softwares offer an advanced detailed functionality which was designed to make implantation quick and easy.